In December 2023, a modern medical facility, much awaited by the inhabitants of Poznań, will be opened in the capital of Greater Poland. It is called Medical University Central Integrated Teaching Hospital and it is being built in Poznan's Grunwald district. The hospital campus with an area of over 28 thousand square metres and volume of more than 98 thousand cubic metres will increase the availability of highly specialized diagnostic procedures.
The first stage of this investment program is being executed Warbud as a design and build project.
The contract covers among others the construction of the Hospital Emergency Department and the Centre for Emergency and Interventional Medicine. A landing pad for Polish Medical Air Rescue helicopters is being built nearby.
'Module 2 will ultimately house bed departments. We are currently carrying out reinforced concrete works here,' reports Andrzej Szczęsny, Site Manager. 'Finishing works are also underway in Module 1 in which the HED and the Endoscopy Department will be based with imaging diagnostics facilities, 15 operating rooms equipped with the most modern medical equipment, as well as a number of accompanying rooms. There will also be an Intensive Care Unit, Central Sterilization Room, Laboratory and numerous technical rooms for individual departments and the entire hospital complex,' says A. Szczęsny.
'We have already completed works on the roof of Module 1 related to the reinforced concrete structure of the helipad, now finishing works in that area are underway.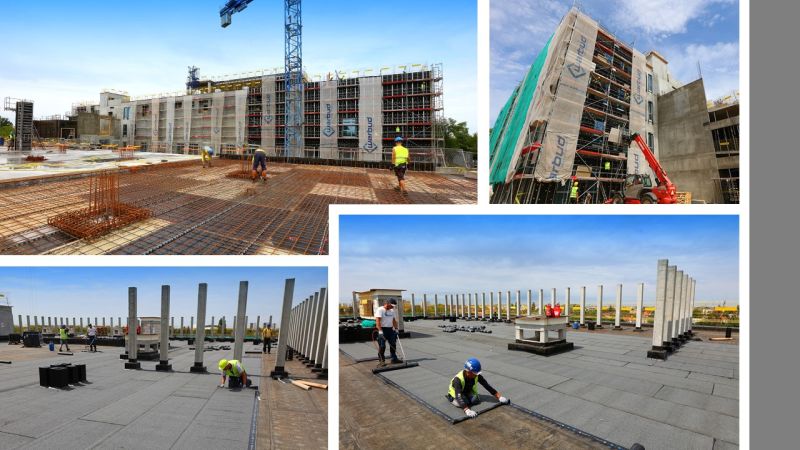 On a plot of over 70,000 sqm we are carrying out works related to underground technical infrastructure - including underground systems, reinforced concrete tanks for domestic, gray, rain and fire water, as well as surface infrastructure, such as a transformer station, oxygen generating plant, porter's lodge. After completing the work related to external networks, we will start landscaping works in the area (roads, pavements, parking lots and greenery).'