On May 18, 2023, a TOP Builder awards gala took place at the Olympic Centre in Warsaw. Warbud won its 15th edition. The award-winning construction projects, services and products - including the Brama Oławska office building completed by Warbud - create top-quality urban space. The building built for the company Tower Inwestycje occupies the best location in the city, contains environmentally friendly technical solutions and constitutes a harmonious combination of technology with the classic character of Wroclaw's Old Town.
At the gala, Warbud was represented by Mr. Sławomir Mortka, Deputy Director in the Specialist Construction Region. 'I thank you all on behalf of my colleagues from the construction team. This is a great award for the engineering staff but also for every site worker involved in this project,' said S. Mortka. 'This is also a confirmation that the building that today adorns the center of Wrocław was built in accordance with top quality standards and best building practices.'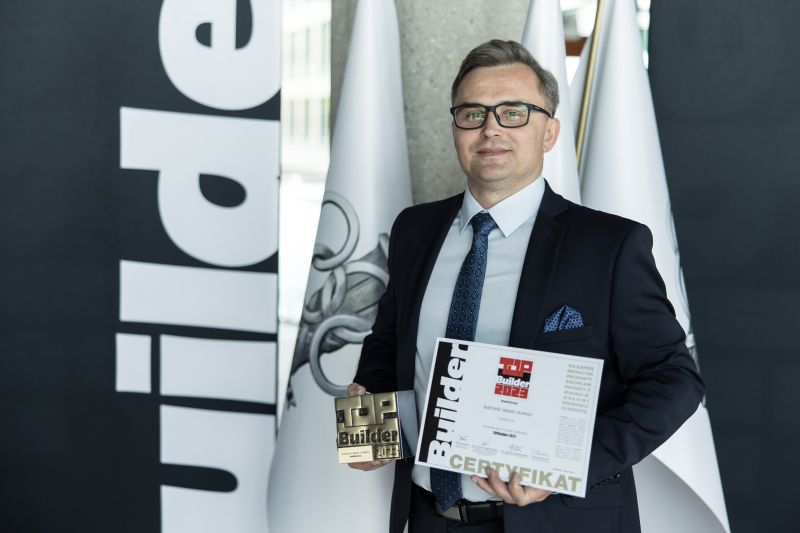 The winning building in brief:
It is a 'hanging building'. This is caused by the fact that the 5 floors of the office building are "suspended" over the Malt Passage via structural columns placed on foundation barrettes. Seven out of the building's ten floors are situated above the ground, three are located in the basement where there will be, among others, 140 parking spaces. The interior has been designed for the most demanding tenants for whom the workplace is not only a building. The total office space reaches 14 thousand square metres. The building also looks great on the outside. The colour scheme of the façade, referring to the neighbouring buildings, was made of copper coloured Alucobond panels. It is complemented by glazing and original decorative elements. The facility was built in accordance with the requirements of BREEAM certification - one of the most frequently used methods of assessing buildings in terms of their environmental performance and sustainable development. Green accents are also found in the roof sections thanks to special solutions used by architects to cover the sanitary infrastructure, mainly ventilation ducts and air handling units. The building offers a great view of the Old Town and the city skyline.