On 24 October 2023 awards were given to winners of the contest "Facility of the Year" organized by Mayor of Toruń. The ceremony took place at the Centre for Contemporary Art "Znaki Czasu (Signs of the Times)" in Toruń. Among the guests were representatives of the local government with Mayor Michał Zaleski. Seven buildings got distinctions in the 2021-2022 edition. The District Court in Toruń built by Warbud also won an award in the "Public Utilities" category. The diploma was received by Mr. Piotr Pazderski, Project Manager at Warbud SA.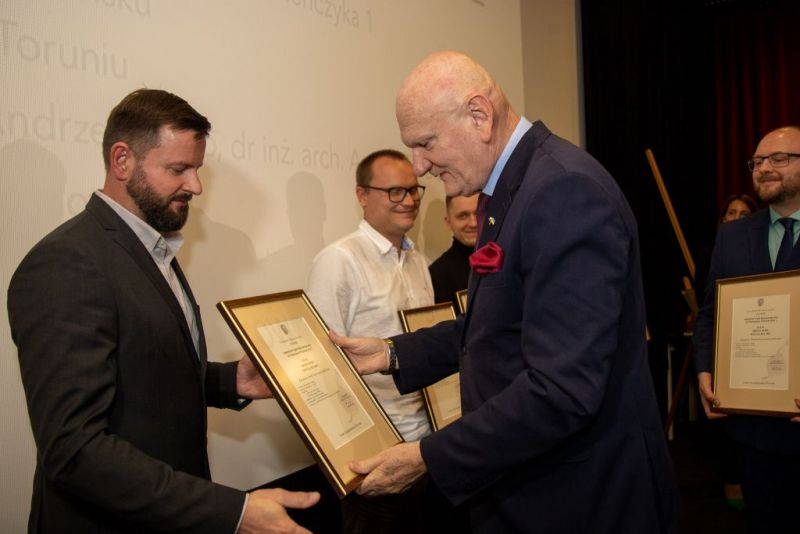 Photo: www.torun.pl
The competition "Facility of the Year" has been organized since 1994. Its goal is to promote contemporary architecture, present the most valuable projects and, above all, reward investors, designers and contractors. The assessment covers the impact of a facility on the city skyline and its integration into the surrounding area, creating attractive public spaces and improving their aesthetics and functionality.
'The essence of this competition is the beauty of architecture. Each of us perceives it in a different way (...) It is not an easy undertaking - to integrate something new into the conditions of a city like Toruń - which is exceptionally attractive for its architecture, which is in turn influenced primarily by the old town complex, but also by the buildings and the architecture of later centuries,' said Mayor Michał Zaleski.