Just before Easter we hosted a group of 60 students from the Department of Civil Engineering at INSA (Institut National des Sciences Appliquées) in Strasbourg (France), who visited three of Warbud's construction sites.
1. Pułkowa Junction along the North Bridge road.
Facing bad weather, the group set out at 8.00 to the construction site of the North Bridge. Mr Adam Pociask, Warbud's Site Manager, was the group's guide. Due to the fact that the Pułkowa junction is being built by Warbud, the young builders saw among others our viaducts and road tunnels. Then they admired the steelwork of the bridge superstructure. The assembly method as well as the issue of foundations aroused keen interest among the students.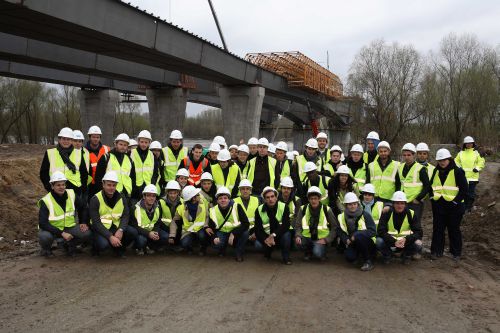 2. Residential and office complex on ul. Topiel
After the visit to the bridge the coach took the future engineers to the construction site of a residential and office complex on Topiel Street. There, after a presentation of the spatial interiors of a demonstration apartment equipped with modern installations and facilities (individually controlled air conditioning, heating, lighting, lifts with smart cards with direct access to the apartment), the young French people went to the garage area. They inquired into the technical aspects of the mining method used in the construction of floor -2 of the underground car park. There were also questions about the energy efficiency of the building and its air-conditioning and ventilation systems. Comprehensive answers were given by Mr Artur Jeżewski, Site Manager. In the office part the group watched with unconcealed curiosity the plastering work. Finishing works are after all a matter of great importance, especially since the development and finishing of office space is also the responsibility of our company.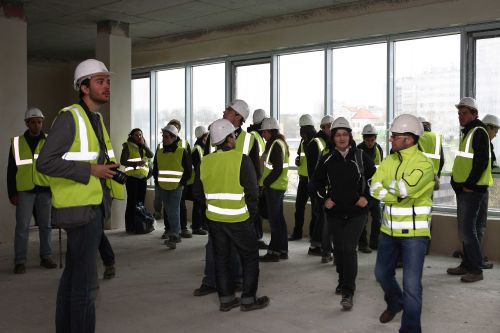 3. Copernicus Science Centre.
The third site finishing the escapade was Copernicus Science Centre. After lunch in the Wiem Bistro the students went out into the Centre's world of discovery and new experiences. Mr Marek Matwiszyn, Contract Manager, talked about the most important technologies and methods of construction and finishing of the building. Mega trusses, coloured concrete, the facade of the planetarium made of raster coloured glass thanks to which you can see at night the highlighted internal structure of the dome, the 46-metre long cable concrete beams were the most important elements for our guests