Warbud has won the 13th edition of the TopBuilder competition. The award-winning construction projects - including the Mennica Legacy Tower skyscraper built by Warbud - build top quality urban space. The competition jury awards achievements of all participants of the construction process, i.e. investors, designers, developers, general contractors and solution providers. The results of the competition reflect the dynamics of development and trends in modern construction in Poland. There are more and more innovative, successfully implemented projects which reflect sustainable construction and architecture. Solutions concentrating on intelligent, innovative and energy-saving construction are now dominating the trade.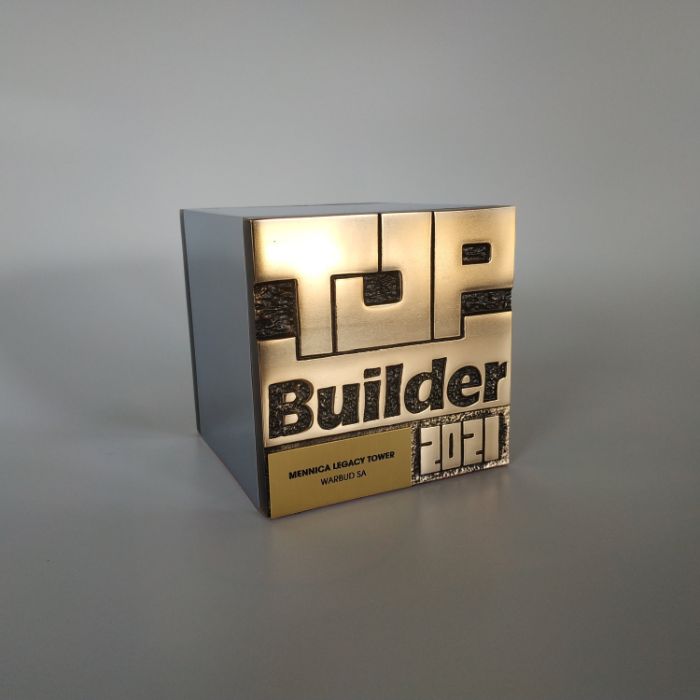 Mennica Legacy Tower is not only unique architecture. It is also a showcase of the latest technologies and systems which allow users to control lighting and air conditioning from a smartphone. It uses top quality finishing materials, carefully selected stone claddings from Italy or extremely original vegetation as in the case of the nine-meter American sweetgum trees. Mennica Legacy Tower is synonymous with attention paid to every detail. Green certification also proves the originality of the project. It is the first high-rise building in Poland to receive the highest distinction in the BREEAM certification process - "Excellent". The 40-person team of Warbud's experienced engineers was responsible for the construction of the facility under the supervision of Mr. Tomasz Szopa, Site Manager, managing the work of over 4,000 people.
'The involvement of all parties in the investment process and the pursuit of a common goal allowed us to meet the greatest challenges. This project required discipline in execution and engineering precision: from underground works, through the construction of both buildings, installation works, to the assembly of an unusual facade, finishing works, arrangement or re-organization of the space around the buildings,' said Mr. Dariusz Gołębiewski, Contract Director responsible for the implementation of the development project.