In front of the Palace of Culture and Science, along Marszałkowska Street, Warbud engineers have already completed the 100 m long, 25 m high structure with white facades - the Museum of Modern Art.
The exposed form with a white architectural face marks the finale of the craftsmanship of engineering work, both on the structure of the building and on the sophisticated façade. For an untrained eye the stylistic "less is more" may however not be so obvious. In terms of project implementation - it is an enormous challenge, unique for many industries. What do we find today in the interior of the building? What is the scope of installation and finishing works? What does it take to bring the building to life and bring the architects' vision to life? Let us ask Mr. Daniel Jonczyk, Site Manager at Warbud SA.
'From the outside, the Museum gives the impression of being almost finished, mainly due to its completed facade, meticulously built in line with the minimalist style but using extremely advanced technology. Nevertheless, such a demanding building and its technical and exhibition standards mean that the bar for interior finishes has also been set very high. We concentrate our work in several areas. First of all around the roof, where the first cooling towers will be installed in February. The vapour barrier on the roof is already done, all skylights are ready, we can now install technical equipment. At this moment, we have also completed 80% of the steel structure of the roof necessary for the assembly of the building services,' explains Mr. Jonczyk. 'Next month we are starting glazing installation in the façade windows, and the first step here is the installation of steel frames.'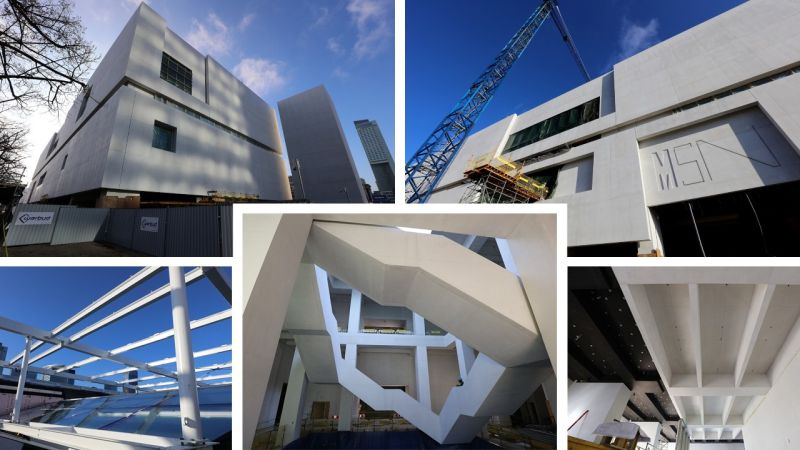 Meanwhile, inside the building, there is a real rush. Despite the fact that the internal facade is completed on three storeys of the building to create a thermal insulation membrane, the internal walls of the tower of the future cinema are covered in 90% with architectural concrete and all concrete foundations for the floors have been made on the underground floors - the construction team are not slowing down.
'In the underground part of the Museum we are installing ceiling structures. The first ceilings made of architectural concrete can already be seen in the arcade of the ground floor. In the shafts we are installing water and sewage pipes, ventilation and wiring systems are underway. The efficiency of those systems is of key importance for the facility, mainly because of the high standards of transport, storage and exhibition of artwork items created by the greatest artists whose exhibitions will be held in Warsaw in the future,' emphasizes Daniel Jonczyk.