On 6 October 2022, 9th edition of the "Green Industry Summit" conference took place in Warsaw.
The main point of the conference was the "Green Industry Diamonds" gala, during which Warbud was awarded in the category Industrial Construction Leader as an entity responsible for the implementation of detailed designs, construction and assembly works in accordance with requirements of green certificates and top environmental standards.
The statuette was collected by Nicolas Dépret, President of Warbud SA's Management Board. Mr. Dépret emphasized the importance of environmental goals in the strategy of Warbud and the VINCI Group.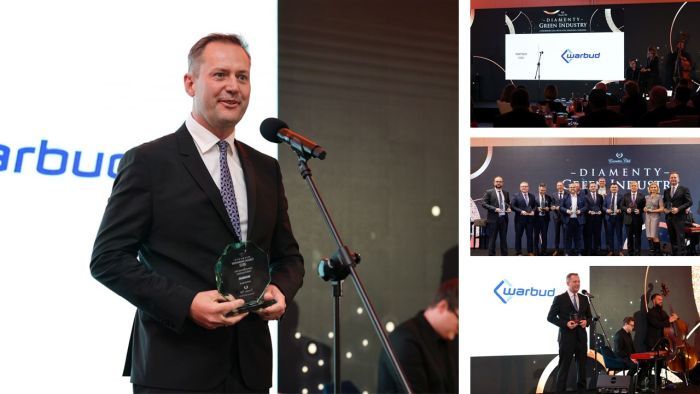 One of the speakers in the debate 'Climate-Neutral Construction' was Mr. Jacek Zychowicz, Deputy Director for Technology at Warbud Beton Sp. z o.o.
'The panel in which I participated covered a wide range of issues related to the reduction of CO2 emissions in construction in terms of the use of concrete, steel, other building materials and products, prefabricated elements, as well as alternatives to traditional reinforcement or entire reinforcement systems. The dominant topic was the use of low-emission concrete, and thus - the issues regarding planning, scheduling, BIM, the problem of admitting concrete to trading in terms of standard requirements, legal aspects, as well as solutions regarding formwork circulation. Issues regarding the use of low-emission concrete in winter conditions were also discussed. Warbud Beton has extensive experience in that field and is the only company on the Polish market which holds a certificate for Thermal Treatment of Concrete Using Electric Heating,' said Jacek Zychowicz.
'Other discussion topics related to the design of structural elements with the use of low-emission products in infrastructure construction and in GDDKiA road and bridge contracts. Other topics important for the industry are related to the methods and standards of calculating emissions or certification of construction products, as well as the possibility of using materials recovered from demolition of existing facilities and designing with demolition materials in mind,' added J. Zychowicz.