Warbud has completed science and research facility for University of Life Sciences in Wrocław
In April 2022, Warbud completed the construction of Centre for Applied Biology and Innovative Food Production Technologies in Wroclaw. The building serves as a research and development facility. It was designed in the form of a compact L-shaped block. The campus, which was built in the vicinity of the Odra River, is characterized by simplicity and its bright, plaster-finished facades with red highlights.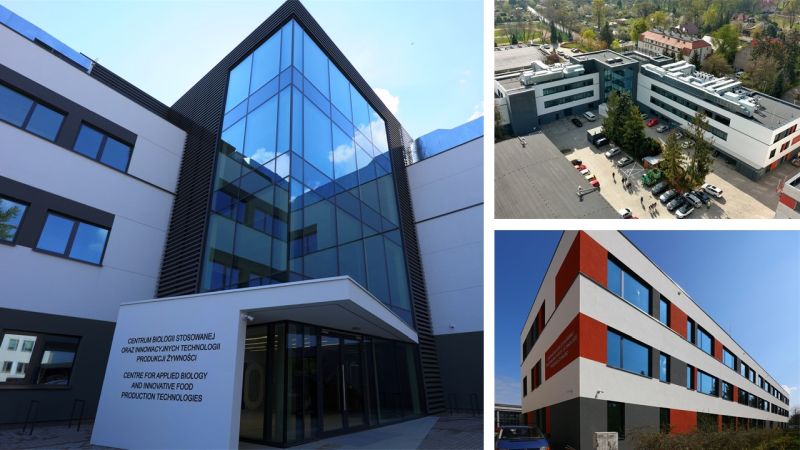 'As part of the design and build development project we have prepared multidisciplinary project documentation using the BIM technology - technological, executive and construction design,' says Mirosław Święs, Contract Manager from Warbud SA. 'One of the laboratories, center for preclinical research and cell transplantation, has been designed and built to a standard which meets the requirements of BSL2 laboratories,' describes M. Święs. 'I would like to thank everyone involved in this task for their efforts put in project execution, from the design phase finished with obtaining a building permit, to the occupancy permit for the entire facility. Thanks to the dedication of our site team, the pandemic and the turbulences occurring on the construction market did not disturb the process of project execution and we were able to transfer the facility to the Investor for equipping within the assumed time limit.
The modern complex, which houses the Centre for Applied Biology and Innovative Food Production Technologies, is a laboratory facility with an experimental hall for food and dried food production with accompanying rooms, as well as cooling rooms and a cold room. It is also equipped with 104 parking spaces for passenger cars.
The Facility in numbers:
- number of above-ground storeys outside the subdominant area: 3
- number of above-ground storeys within the subdominant area (in total): 4
- building height: 16.80 m
- building length: 73.82 m
- building width: 69.82 m
- footprint: 2 185 m2
- usable area: 3 588 m2
- total area: 6 550 m2
- gross volume: 28 422 m3