Warbud's Chairman Jerzy Werle recognized as Industry Personality of the Year 2019
Jerzy Werle, Chairman of Warbud's Management Board, was awarded the Industry Personality Award 2019. The title is awarded to persons related to the infrastructure and construction sectors who have outstanding authority, are recognized outside the industry and defend its interests, are distinguished by achievements, exceptional business efficiency and innovation, and thus contributing to the development of the sector in Poland.
The verdict also emphasized that Chairman Jerzy Werle is a supporter of management through safety, a promotor of innovation and development as well as environmental solutions strongly involved in legislative processes in terms of the necessary changes in the building code and public procurement law.
At the same time, Warbud received the second distinction awarded by the Builder monthly in the category Construction Company of the Year 2019. Builder Awards are a confirmation of the winners' achievements, a dissemination of good practices and business relations in the construction industry. They indicate that award winners have a positive impact on the companies, organizations and institutions they represent as well as on the entire industry.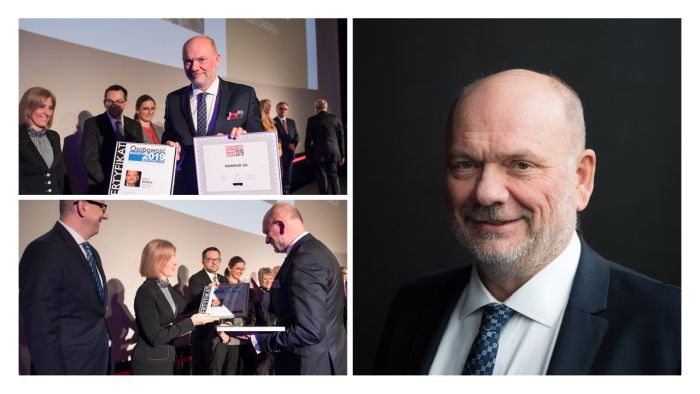 The ceremonial gala took place on January 30, 2020 at Multikino Złote Tarasy in Warsaw. A group of winners was selected by the Chapter and the Scientific Council of the Builder magazine chaired by Prof. Leonard Runkiewicz, PhD, Eng.
During the gala it was emphasized that Warbud SA, a company being part of the VINCI Group, one of the largest and most recognizable general contractors in Poland, has been implementing contracts in all construction sectors with great commitment and passion for nearly 30 years. Currently, in Poland's capital only, it is building three high-rise office towers, section C of Warsaw South Ring Road and the Museum of Modern Art. Warbud's successes in 2019 were also recalled – such as the commissioning of among others one of the largest hospital complexes in Europe - the Jagiellonian Medical College in Krakow-Prokocim and the University Dentistry Centre of Warsaw Medical University.