Warbud has won a contract for modernization of road viaducts above Paryska Street in Warsaw's Saska Kępa district. Warbud's offer was chosen by Warsaw City Development Board as the most competitive offer. The contract was signed at the head office of WCDB at Senatorska Street on December 13, 2022. On behalf of Warbud SA, the document was signed by Nicolas Dépret, President of the Management Board, and on behalf of the Contracting Authority by Łukasz Górecki, Director.
'Signing this contract is a special day for us and another important contract in our portfolio,' commented Mr. Nicolas Dépret, President of Warbud SA's Management Board. 'Implementation of road projects is particularly burdensome for the residents and the immediate vicinity of the site. Especially when - as in this case - the General Contractor is obliged to keep unobstructed flow of traffic along Łazienkowska Road throughout the duration of the works. Therefore, during the demolition of the first viaduct, it will be possible to drive over the second structure. Then we will direct traffic to the newly built viaduct and the demolition of the remaining part of the road will begin,' said Warbud's President.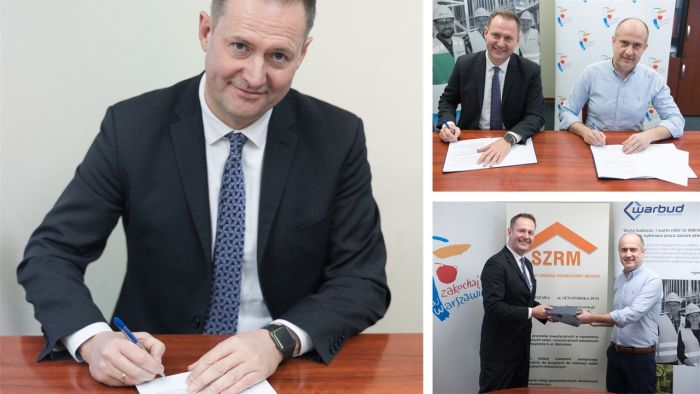 About the Project
The purpose of the project is to make it possible to install noise barriers along Stanów Zjednoczonych Avenue, at the section from Bajońska St. to Międzynarodowa St., which will reduce noise emissions. The decision to rebuild them was made after conducting tests which showed significant exceedances of the permissible road noise level. In order to reduce it, a new, quiet road surface will also be made.
Stanów Zjednoczonych Avenue is a section of Łazienkowska Road. It is a dual carriageway separated by a green median with three traffic lanes in each direction. As both 210-metre-long viaducts are in a very bad state, they will be demolished and then rebuilt over Paryska St. The design provides for twin twelve-span load-carrying structures with a reinforced concrete double-girder structure. The girders are designed as beams with a trapezoidal cross-section: they are 250 cm wide at the bottom and widen towards the top. The parameters of the structure will be similar to those of the existing viaducts with a slight extension of the load-bearing structure to allow for installation of noise barriers.
As part of the procurement, Warbud will also rebuild power, telecommunications, sewage, water, central heating, gas networks and sections of Bajońska and Paryska streets. Warbud will complete all the works within 30 months.
Project Parameters
Design spans: 14.50+10x18.00+14.50=209.00 m (along the axis of the structure)
Length of the load carrying structure: 210.00 m
Basic overall width of span: 13.37 m (right side) + 0.1 m + 12.89 m (left side) = 26.36 m