Warbud signs contract to add floors to main building of Military Clinical Hospital in Lublin
The contract with the 1st Military Clinical Hospital with a Polyclinic SPZOZ in Lublin was signed on 6 October 2022. The document was signed by Mr. Nicolas Dépret, President of Warbud SA's Management Board and Mr. Lech Wąsowski, Director of South Region. On the part of the Contracting Authority the Contract was signed by Col. Aleksander Michalski, PhD, Hospital Commander.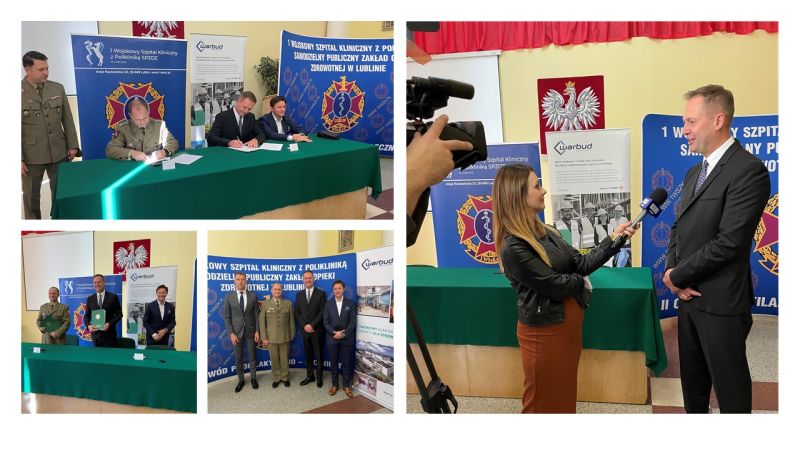 The contract covers addition of a top floor to the existing main building within the unused attic, which is then to be used by medical units. On the added floor there will be comfortable and modern Neurosurgery, Cardiology, Cardiac Rehabilitation and Neurosurgery Units. Construction work is scheduled for completion within 27 months from the date of contract conclusion.
Warbud will execute the contract in two stages. As part of the first stage, the company will rebuild the west wing and the middle part with the connector. This part of the building will be occupied by Cardiology and Cardiac Rehabilitation units. After completion of construction and finishing works and obtaining an occupancy permit, the Cardiology Unit, which is now located on the floor below, will be moved to the new location.
After completion of the first phase of the works, it will be possible to proceed to stage II, which covers the construction of a Neurosurgery and Neurological Rehabilitation Unit in the eastern wing and a fragment of the central part of the building. After completion of those works and obtaining an occupancy permit, the Neurosurgery Unit will be moved to its final location.
The total area of stage I superstructure is 3,270.34 m², while stage II covers 2,879.43 m².
The detailed scope of works covers construction of multi-purpose buildings, as well as installation of sanitary, electrical, telecommunication, water and sewage and fire protection systems and execution of finishing works.
'I hope that the signed Military Hospital rebuilding and expansion contract will bring real benefits to the inhabitants of Lublin and the entire region,' said Nicolas Dépret, President of Warbud S.A.'s Management Board.
'I want to thank the Investor for their trust and commissioning the work to us. I would like to assure you that we will make every effort to ensure that, after completion of the works, the hospital is not only aesthetic, comfortable and safe, but first of all, it meets requirements of all applicable regulations, and in which patient hospitalization conditions satisfy the highest treatment standards. Our staff responsible for this project are excellent specialists. I am convinced that the investment will be successful and completed on time despite the difficulties which the construction industry has been facing for a long time. Our extensive experience in the medical construction sector speaks for us. We have completed over 40 hospital complexes and facilities for health care built throughout the country,' concluded Warbud's President.