Work progress on design and build laboratory construction project site in Krakow
Warbud is building in Krakow a Centre for Innovation and Research in Pro-Health and Safe Food. The laboratory facility at Balicka St. has been designed for the University of Agriculture as a single storey building on a plan close to a rectangle.
The entrance zone was emphasized by a cut made in the corner on the north-west side, as well as by extending the roof above the entrance beyond the facade face. A yellow colour accent was also used in the roof finish and a lighting surrounding the entrance area. An unconventional ventilated façade has been designed and installed in the facility. It has the form of a lining made of perforated aluminium sheet with varying degrees of perforation. The facade panels differ from one another by their degree of protrusions in relation to the face of the walls. 'The protrusions were made by 5/10/15/20 cm to create a spatial arrangement,' reports Marcin Jabłoński, Site Manager at Warbud SA.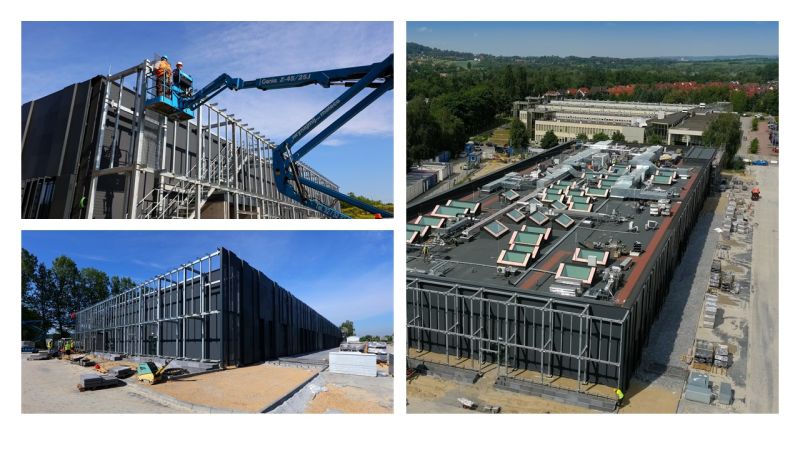 'On the roof, 40 single-pitched skylights illuminating the central section of the building with daylight were designed and installed. On the eastern side, there is a green wall behind which technical facilities and steel stairs leading to the roof of the building are hidden,' says M. Jabłoński.
The building will house laboratories, offices, warehouses and technical rooms supporting two faculties of the University - the Faculty of Food Technology (WTŻ) and the Faculty of Production and Power Engineering (WIPiE). The entire facility has been divided into two zones: economic, which will include, among others, a microbrewery with a beer storage room, a microbiological laboratory and a bakery and confectionery line. The second zone will include such laboratory groups as: bioreactors, lines for the production of juices, beverages and wines, and proteomics laboratories.
Thanks to well-equipped rooms, scientists will have an opportunity to conduct research, e.g. in the field of food production, which is richer in nutrients and free of allergens, creating new systems for food packaging and storing and processing waste from the food industry.
'Considering the purpose of the facility, we have used finishing materials which are easy cleaned and disinfected (sandwich panels made of polyester resins reinforced with glass fibre, stoneware tiles) and which are characterized by high resistance to organic and chemical substances, the development of mould, fungi and microorganisms, and additionally resistance to abrasion and mechanical damage.
The execution of the project, despite the difficult market situation, has been proceeding in accordance with the schedule and is nearing completion,' the Site Manager concludes.